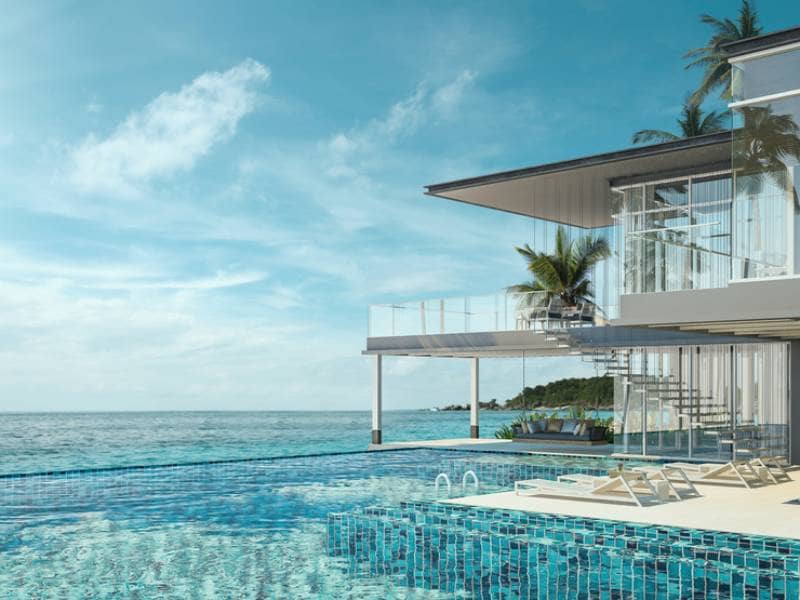 Why Colorbond® Ultra Steel Is Perfect for Homes Built by the Ocean
If you're building or refurbishing a beachside home, consider using Colorbond Ultra steel for your roofing and cladding.
Specially pre-painted and coated, Colorbond Ultra steel minimises corrosion from salt and ocean spray, ensuring your roof always looks stunning and is protected from the harsh elements associated with beachside living.
Colorbond Ultra steel is specifically manufactured for the construction of house exteriors and has excellent corrosion resistance and long-term durability. Suited to moderately severe coastal environments, you'll love the look and appreciated the value it adds to your home.
Roofing and cladding made from Colorbond Ultra steel is roll-formed in multiple profiles and colours to create interest and texture. It has a distinctive look and will become a fabulous feature in any home.
Former Block contestants Kyal & Kara love Colorbond Ultra steel
Kyal and Kara's latest project is their 'Blue Lagoon Build.' It's their dream family beach house located on the NSW Central Coast. This stunning home features a Colorbond Ultra steel roof in the colour Dune.
Kyal and Kara are loyal fans of Colorbond steel, having used Colorbond steel in the colour Windspray for the roof of their Toowoon Bay renovation and Colorbond steel Matt in the colour Surfmist for their acclaimed Long Jetty Reno project.
For their Blue Lagoon Build, the couple constructed a brand-new home on their property. The style of the home follows their signature coastal aesthetic and Colorbond Ultra steel in the colour Dune was the perfect fit for their design.
They chose Colorbond Ultra steel in the colour Dune for our Blue Lagoon Build for a number of reasons. They love the warm, pale grey which works beautifully with the surrounding bushland and coastline. It evokes a sense of calm and balance that is fitting for an Australian family beach house.
Also, given that the house is less than 150m from the surf, they choose Colorbond Ultra steel which is especially designed for severe coastal environments where there may be a smell of salt or salt spray in the air.
Kyal and Kara have the added confidence in knowing Colorbond steel has been tried and tested in Australian conditions.
Would you like to see Kyal and Kara's beautiful completed home? Click on the link below.
If you're planning to build a home on the Gold Coast or by the ocean, our friendly staff at A & D Discount Roofing Supplies Loganholme will be happy discuss your options using Colorbond Ultra steel. Call us on 07 3801 3188 and we can arrange a no obligation consultation.