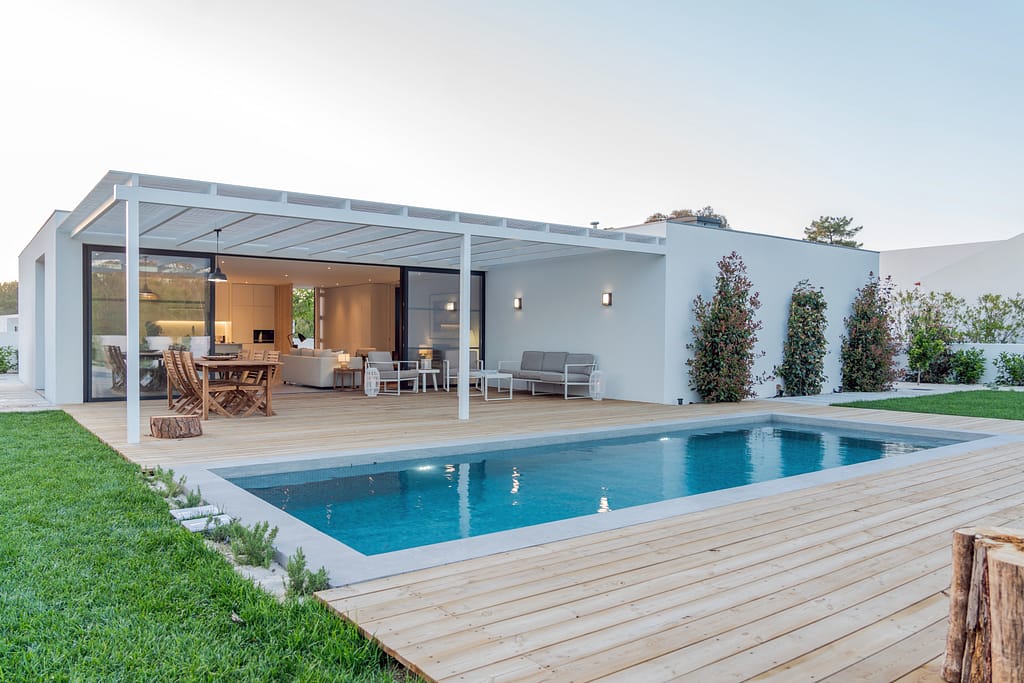 Insulated patio roofing designs and ideas
There's nothing better than an afternoon spent with family and friends in your backyard. But sometimes bad weather throws a spanner in the works, and you're left looking for plan B. Investing in insulated patio roofing means you can enjoy the outdoors all year round. The ideal way to create more space, with a huge range of colours and finishes to choose from, you can make your new outdoor area uniquely you.
Insulated patio roofing design ideas
When it comes to insulated patio roofing designs, the options are limitless. Whether you are creating a small, enclosed space or providing cover for a caravan, car, or boat, check out the patio roofing design ideas below.
A freestanding space using insulated patio roofing
A free-standing patio design using insulated roofing materials offers an oasis away from the home. Ideally positioned in front of a pool or a cozy spot in the yard, it's perfect for weekend gatherings, family events, or regular outdoor dining.
Fly over patio roofing
A fly-over patio built using insulated patio roofing panels creates an impressive open living area with high ceilings for additional headroom, air flow, daylight, and unrestricted views. Breathing new life into an existing back deck, this insulated patio roofing design will enhance your home.
Gable patio
A gable roof is another fantastic way to build the ultimate outdoor spot using affordable insulated roofing panels. Creating a grand opening to a backyard living area, a gable roof will give your patio additional height and ventilation.
Insulated patio roofing for your car or boat
Can't fit your boat in the garage? Looking for ways to protect your caravan off the road? Insulated patio roofing will protect your vehicles whilst also giving you a comfortable area to work, clean, and play on your toys.
Advantages of insulated patio roofing
Unlike a single skin steel, insulated patio roofing materials help keep heat away from your outdoor area. And that will make your patio comfortable during the warm summer months. Adding value to your home and offering complete shade, insulated patio roofing prevents heat from penetrating the roof and reaching the patio. Keeping you in touch with the outdoors, insulated patio roofing looks better than an old tin roof. Shedding rain, and in most cases, channelling drainage so it doesn't splatter, with insulated patio roofing, you can conceal electrical cabling for ceiling lights and fans, giving your outdoor space a clean, uncluttered look.
D.I.Y insulated patio kits
Have you considered a D.I.Y insulated patio kit? Available in free-standing or attached designs, they're easy to install, available in a variety of popular colours, and are competitively priced. Offering delivery of your new insulated patio kit to homes and job sites across Brisbane and the Gold Coast, if you're unable to carry out the installation yourself, A & D Discount Roofing Supplies can recommend a trusted licensed builder to do it for you.
Would you like to discuss your patio roofing ideas with an expert?
Come in and chat through some design ideas with our team of roofing professionals at A&D Discount Roofing Supplies. Stocking a wide range of patio roofing materials and roofing supplies, we've got you covered. Phone 07 3801 3188 to arrange a consultation or obligation-free quote. Or view our entire product and service range online.