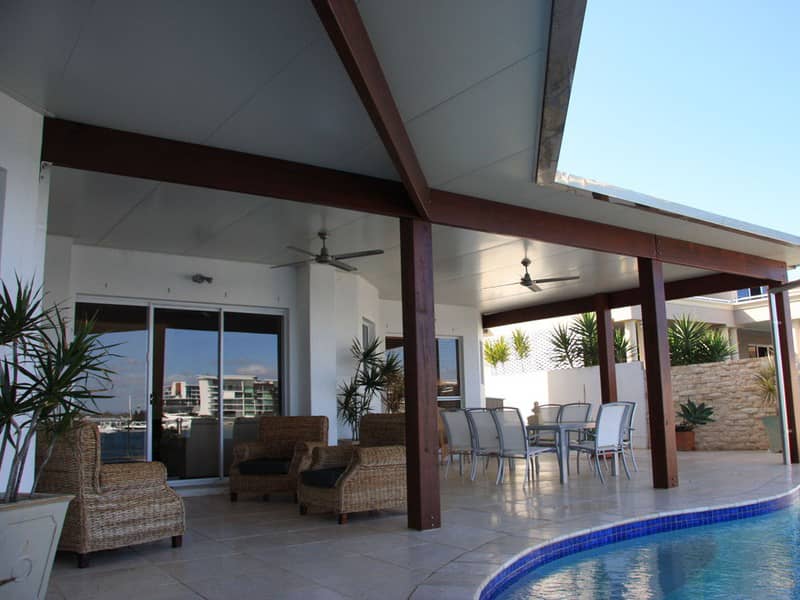 Why Insulated Patios Are Your Best Choice
Insulated Roofing Panels & Patio Kits
Giving you and your family protection form the harsh Sun and the elements.
Our Insulated Roofing Panels & Patio Kits are an Australian made BlueScope Colorbond product. They're suitable for all weather conditions and will keep you cool in summer and warm in winter. They make a fabulous addition to any home.
Don't fall into the trap of choosing a 'single skin patio!' They only provide limited protection which means your patio will be used less frequently and you and your family won't get the best value from it.
Benefits of Insulated Patio Kits
10-year warranty.
Insulation is built in.
Complete roofing system – ready to install.
Smooth, pre-painted ceiling finish.
Available in Ribbed Trimdek style, or corrugated top sheet.
Choice of underside profiles Smooth, Hamptons or Sateen)
Can span up to 8.3 metres.
Sheets are cut to length to meet your requirements.
Easy installation.
Complete Insulated Patio Kits Ready to Install!
Whether you're a BUILDER, TRADESPERSON, or D.I.Y HANDYMAN – it's easy to install your new 'insulated roofing panels & patio kit!' Choose from our free standing or attached designs.
Everything is measured, pre-cut, ready to install and you'll love our range of popular COLOURS.
For durability, function, style, and price – YOU CAN'T BEAT INSULATED PATIOS!
Not Sure Where to Start?
Don't worry, our expert staff at A & D Discount Roofing Supplies are here to help. We'll talk you through all your options and then recommend the perfect PATIO to suit your home and your budget!
If you're a home owner and still unsure whether you can build your new patio on your own, we're happy to recommend a trusted BUILDER in your area.
Call our friendly staff at A & D Discount Roofing Supplies on 07 3801 3188 for more information!