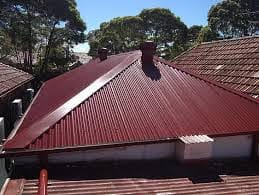 Caring for Colorbond and Zincalume Steel
Colorbond roofing and Zincalume steel products are made in different ways which make matching appropriate guttering and other materials important.
While Colorbond roofing is pre-painted with a Zincalume core, Zincalume steel is another popular roofing material made out of – as the name suggests – zinc and aluminium with added magnesium and silicon. Both are incredibly durable and weather resistant and the right care can add years to the lifespan of the products.
Compatibility with guttering and other products
Materials and chemicals likely to avoid corrosion should be avoided when using Colorbond roofing and Zincalume steel products. Lead, copper, uncoated steel, abrasive chemical cleaners, copper-chrome arsenic-treated timber and galvanised gutters are not compatible with Colorbond roofing and Zincalume steel. Never use abrasive or solvent type cleaners like kerosene, turpentine or paint thinners.
The benefits of Colorbond roofing and Zincalume steel
Steel generally corrodes easily in just about any environment so coating it with zinc, it provides it with a barrier to keep water or moisture away from the steel. Zincalume steel roofing is durable and cost-effective as it comes in one aluminium colour. It is manufactured using environmentally-friendly recycled materials and is built to survive the harshest weather. Colorbond roofing comes in a large array of colours and is very energy efficient. Built for Australian conditions, the 22 colours allow flexibility when in the design phase of a home and are made to withstand some of the harshest weather on the planet. It can withstand extreme heat and cold and comes in a range of designs from corrugated to weatherboard and panel.
Maintaining Colorbond roofing and Zincalume steel
Water can be your friend when it comes to caring for your products as they will clean and rinse easily while much of the regular cleaning can be done by general rainfall. Every six months or so, areas of the roof, guttering or garage that don't see any rain should be washed down with a soapy water mixture to keep it not only looking great but to remove any build-up of dust or other fragments. If your home is by the coast, this should be done even more often to remove any salt deposits because salt helps corrosion. As mentioned previously, abrasive cleaners or solvents are the enemies of steel generally. If you're building or refurbishing a beachside home, consider using Colorbond for your roofing and cladding. Read more about why Colorbond is perfect for homes built by the ocean.
Colorbond roofing and Zincalume steel products not only offer an affordable solution for your home, but they also are easy to maintain, look great and are built to withstand the harshest weather in Australia.
Are you in the market for new roofing or just want to know how an expert in Brisbane and Gold Coast roofing can help you today? Give A & D Discount Roofing Supplies a call on (07) 3801 3188.